Join the CMO Alliance community
Ready to connect with CMOs and top-level marketing executives all over the world? Join our community for an exclusive space for CMOs to network, share experiences and insights, and seek advice directly from other CMOs.
Why join?
Why wouldn't you want access to a community giving you direct connections with the best and brightest CMOs in the world? There's benefits for everyone, whether you're a veteran, just starting out, anything in between, or even looking to make the jump to the c-suite.

We've got spaces to share your burning (and not so pressing) questions about anything related to the roles of modern CMOs. From start-ups to leadership advice, growth to branding, and plenty more.
Done something really cool you want all your peers to know about? There's room for that here!
Get updates on the latest and greatest from CMO Alliance, including the newest content, news, and info about upcoming events.
When you get right down to it, it's a fun, relaxed space for passionate top level marketers to connect and chat!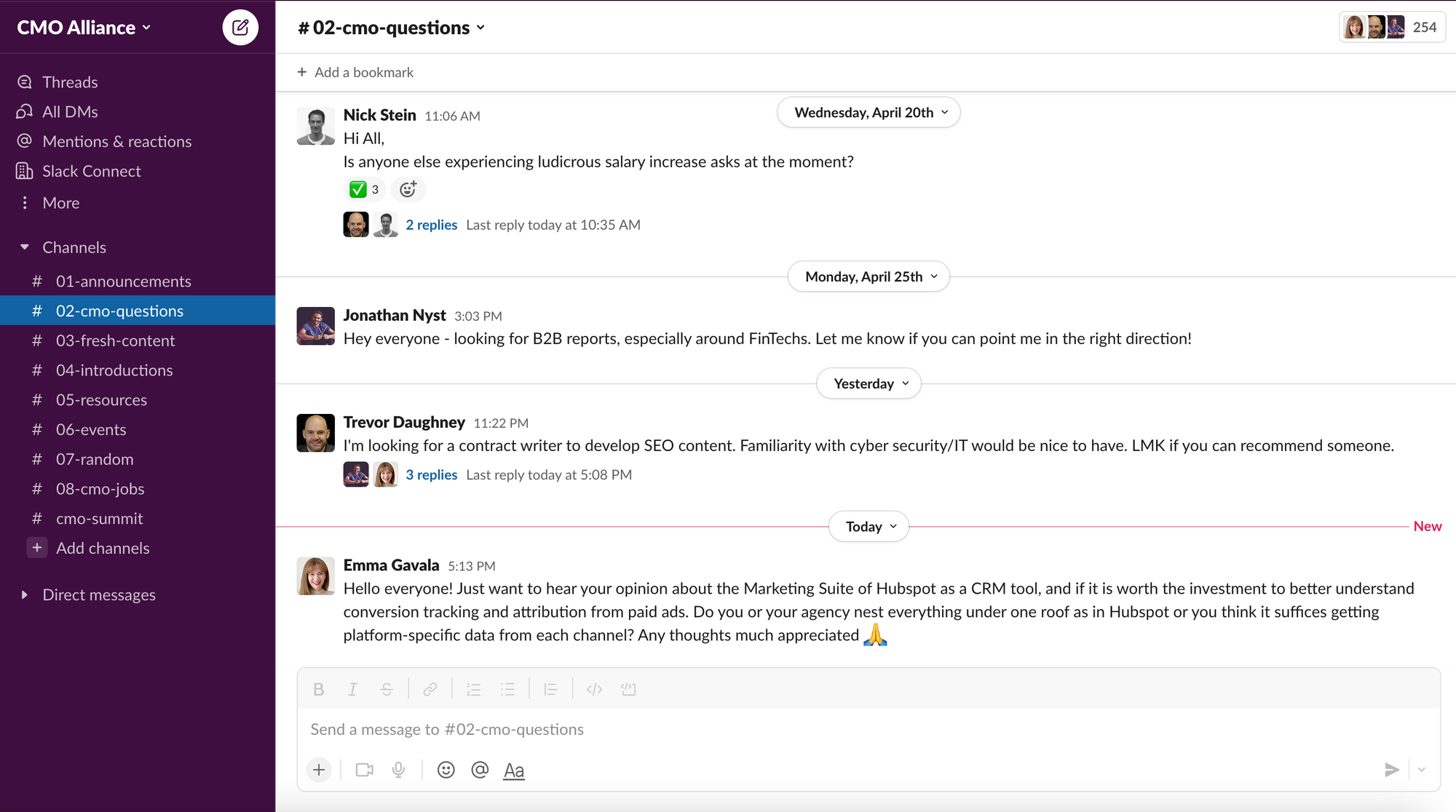 Sound good? Here's how to join
Just fill in the form at the top of the page! Once you're in, feel free to make a quick intro on the 04-introductions channel. You're then free to explore, ask questions and contribute as much as you want.
FAQs
Is there a fee to join?
Nope, all these benefits are completely free and they always will be.
Can I promote my company's products and services?
We'd rather you didn't! This is a space for top-level marketers to share knowledge and learn from each other. If it's absolutely relevant and you're not running a sales pitch, we can make allowances, but you must be open about your connection.
Can I invite other people?
If they're a top-level marketer, then heck yeah! The more the merrier.