On September 8th, we're heading to the beautiful city by the bay for CMO Summit: San Francisco. There are plenty of reasons to attend, but we've picked out some of our favorites to whet your appetite.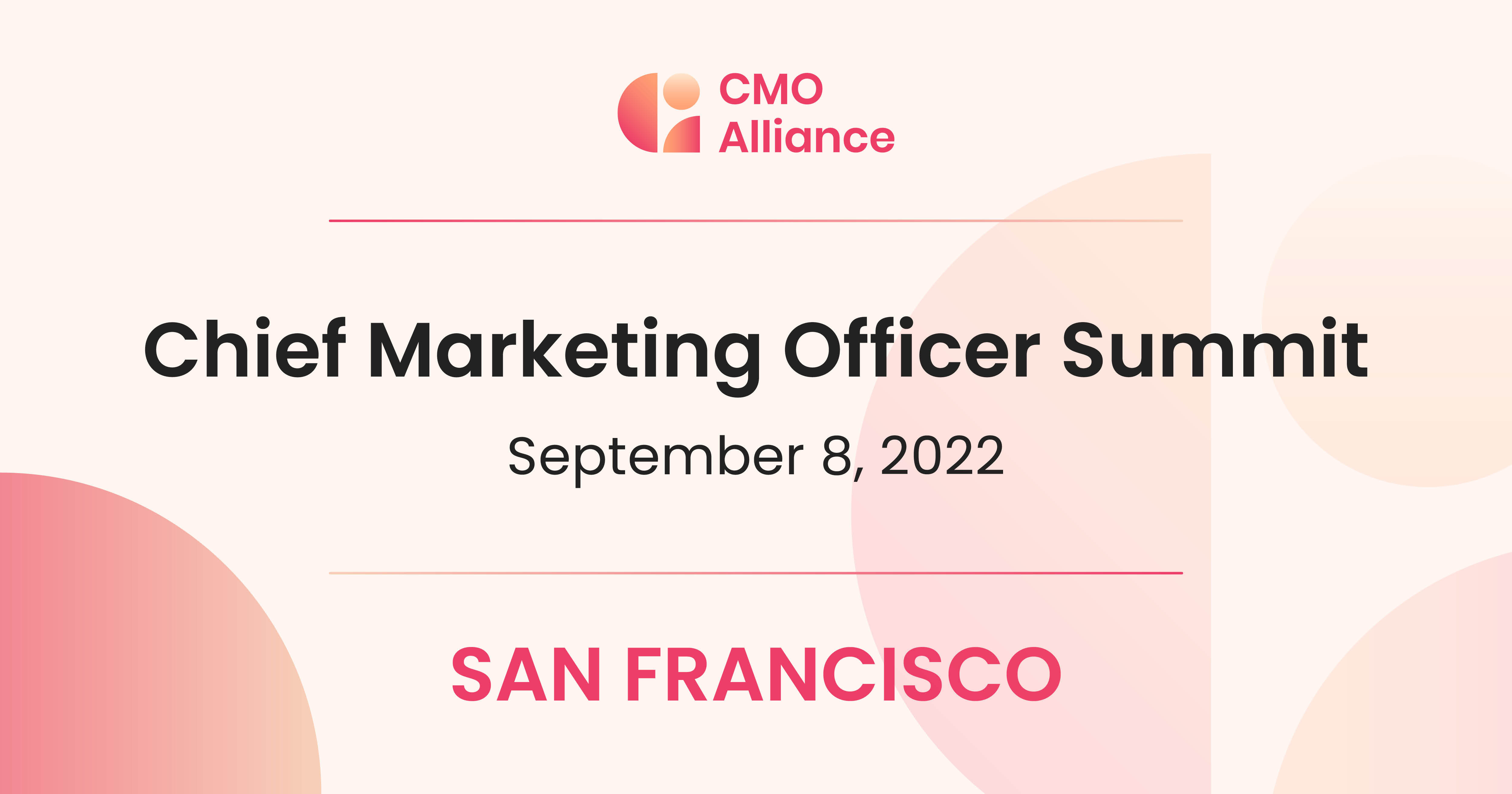 1) Listen to talks from some of the world's leading CMOs and marketing leaders
At CMO Summit: San Francisco, we'll be hosting talks from CMOs and marketing leaders from some of the biggest brands in the world. If you want to know the secrets to success from the marketing leadership that makes brands like Meta, Shutterstock, and Google household names, this is the place to be.
2) Sit in on panels discussing the biggest issues facing marketing leaders right now
The marketing industry has faced some of the biggest challenges imaginable in the past few years. To navigate these trying times, it's essential to share insights, advice, and methods to overcome the challenges you might be facing.
Whether you want to know how the CMO role is likely to evolve in the near future, how to build and lead a successful marketing team in the age of the Great Resignation, how to prepare your skills for growth and scaling, or how to tell a compelling narrative that cuts through the chaos, you'll find all this and much more on September 8th in San Francisco.

See the full agenda here.
3) Get actionable insights and advice
We've built the CMO Alliance on a key principle: to provide a platform for marketing leaders to share practical advice based on their actual experiences. The CMO Summit: San Francisco is no different. Every talk, every panel, every networking session is an opportunity for you to get actionable insights to elevate your role as a marketing leader and take your leadership skill to the next level.
This isn't an event where we throw around a load of hypotheticals. Instead, you'll find relevant advice from leading CMOs that you'll be able to put into practice immediately.
4) Be part of the conversation
Every session at the CMO Summit: San Francisco has live Q&As built into them. You'll have ample opportunities to ask the questions you need answers to. And each answer will be straight from the mouths of the biggest names in marketing.
5) Network with your fellow marketing leaders
Ever since CMO Alliance launched, we've had constant requests from our members for opportunities to network, in-person. Well, you asked, we answered. CMO Summit: San Francisco is an unmissable opportunity to meet and share your challenges and insights with the best and brightest marketers in the US.

Bonus 1: Be part of history (our first in-person event!)
When we launched CMO Alliance in 2021, the vast majority of the world was still living under lockdown conditions. And while we love our virtual events (and we know our community loves them too), we've been itching to launch our first in-person events. So, we're absolutely thrilled to be finally able to put an in-person event on!
By attending this landmark occasion, you'll have the opportunity to set the standard for our future in-person events, and shape the topics, speaker line-ups, and schedules we'll offer. The community wouldn't be what it is without our fantastic community members. We can't wait to see you in person!
Bonus 2: Insights you can tap into again, and again, and again…
Every single session will be recorded, and by attending you'll get access to every recording. You'll be able to leave the notebook at home and really get to grips with every session you attend, safe in the knowledge that you'll be able to relive every presentation whenever you want, for the rest of time.
---
Ready to join us? Get your ticket here.