"Oneflow, with its bold, stylish imagery and focus on people, is frequently cited as the future of B2B branding, and much of that is down to Ling's leadership and top-notch understanding of the role and function of brands. Her approach has created a dynamic, exciting brand that's beloved by both customers and employees alike, and her example should be an excellent resource for all CMOs in 2022.
"More than that, Ling represents an exciting, fresh perspective on marketing leadership in the largely homogeneous Nordic region, and she's passionate about elevating the voices of other marketers like herself through building and engaging with communities to share insights and advice."
That's what we had to say about Ling Koay of Oneflow when she was included in our "CMOs to watch in 2022" list, earlier in the year.
We caught up with Ling to find out what it meant to be included on the list, and how it's been impacting her career.
---
Hi Ling, what did it mean for you to be selected as one of our CMOs to watch in 2022?
"Everybody wants to be recognized for their achievements and being included on the list makes me feel really good! Thank you. I'm very grateful for the opportunity the title gives me, as it offers the platform I've dreamed about to spread my beliefs and opinions about marketing, and most importantly the keys to being fully happy and productive in life."
What kind of feedback did you receive on your inclusion in the list?
"I was particularly surprised that a handful of people actually reached out to me and wrote me meaningful messages, saying that I've helped them land new positions, fulfill their passions, and that it resonated with their beliefs as well.
"The fact that the ideas got published on a reputable platform like CMO Alliance makes it official that you're right and you're doing alright. I've also started mentoring marketers who reached out to me - junior and senior ones - and helped them to overcome challenges, but not by giving them solutions literally - but by helping them believe in themselves and fighting for their own beliefs and superpowers."
Has your inclusion on the list been a benefit to your career?
"I wouldn't say the title itself directly benefited my career, but the feedback from people who reached out to me because they found me in the list fulfills something larger than my career. I've always wanted to help humans achieve their best potential, unleashing their superpowers, and the platform you gave me completely aligns with my purpose in life."
Do you have any further advice for CMOs and aspiring CMOs that you didn't get a chance to include in your profile?
"Believe in yourself. Work on your superpowers instead of your weaknesses, and you'll be unstoppable."
Is there anything connected to the CMO Alliance you're looking forward to in the future?
"I look forward to every single piece of content you create! I love the hustle and your team is not only productive, the work is quality too. It is an honor for me to be part of the creation process."
---
About Ling
Ling Koay loves marketing and bubbles. She's a B2B marketer and leader with almost two decades of experience driven by growing tech businesses through creativity, art, and science.
Her career in marketing started when she co-founded an agency in 2004 specializing in brand building, which led her to write a thesis on cult branding for her Master's degree.
Marketing to Ling is about using ideas to change minds. Moving the needle. Making sales easier. Recently she gave up her CMO title to focus on brand. Call her crazy, but marketing is the puzzle she solves every day to make her life complete.
You can also hear more from Ling on our CMO Convo podcast.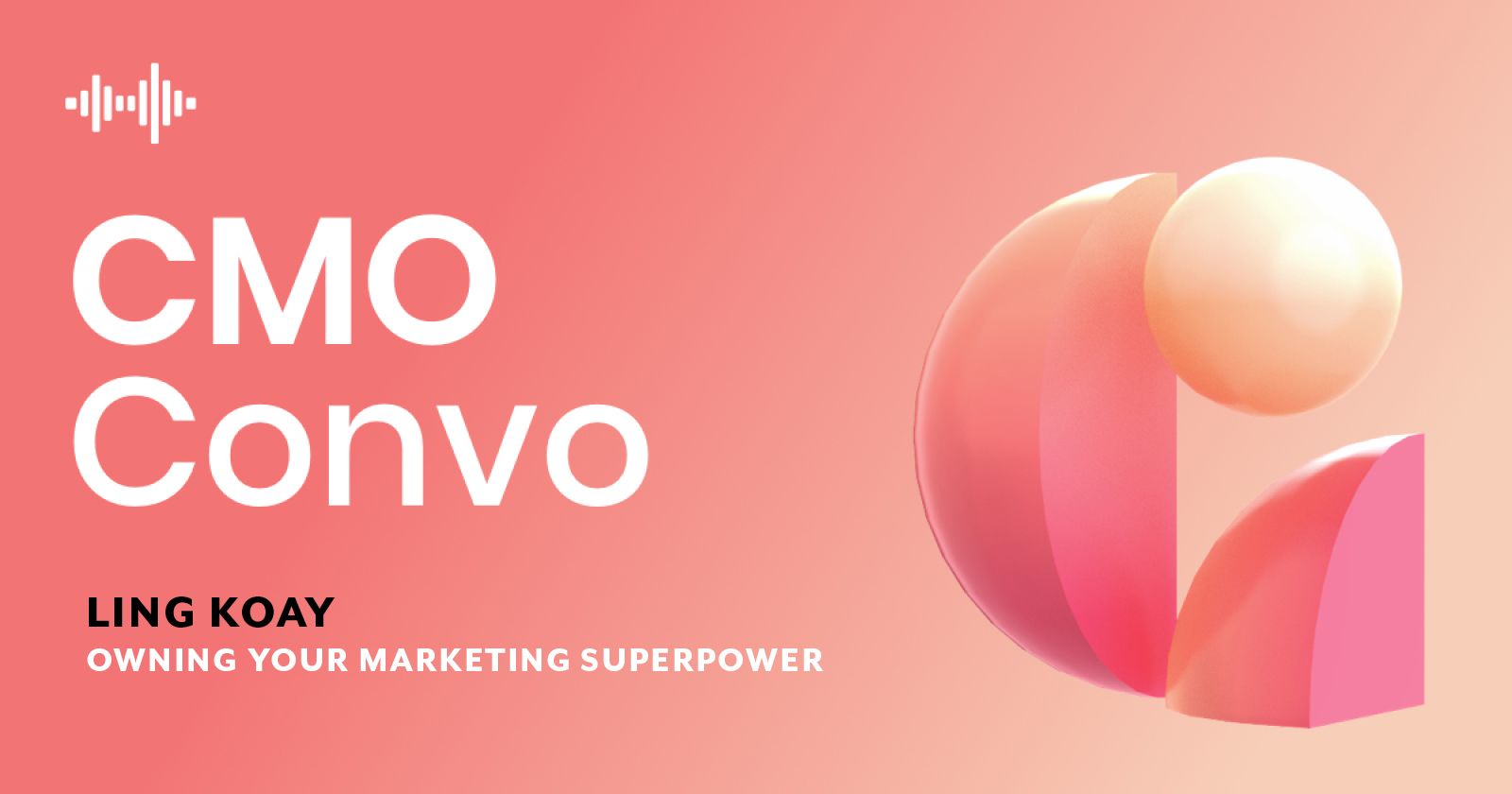 ---
Do you want to be part of a community filled with fantastic CMOs and marketing leaders like Ling? Join the CMO Alliance Community Slack channel today!
Want to contribute to the community or be on our radar for the next CMOs to watch list? Find out how you can get involved.