Patrick Reynolds, CMO of BlueConic, recently joined us on the CMO Convo podcast for a special episode discussing the importance of diversity, equity, and inclusivity in marketing, and the responsibilities of CMOs in championing those initiatives.
We caught up with Patrick to find out what he thought of the experience, and how the response has been to his appearance on the show.
Check out the video above, or read the transcript below.
Note: the transcript has been edited for clarity and length.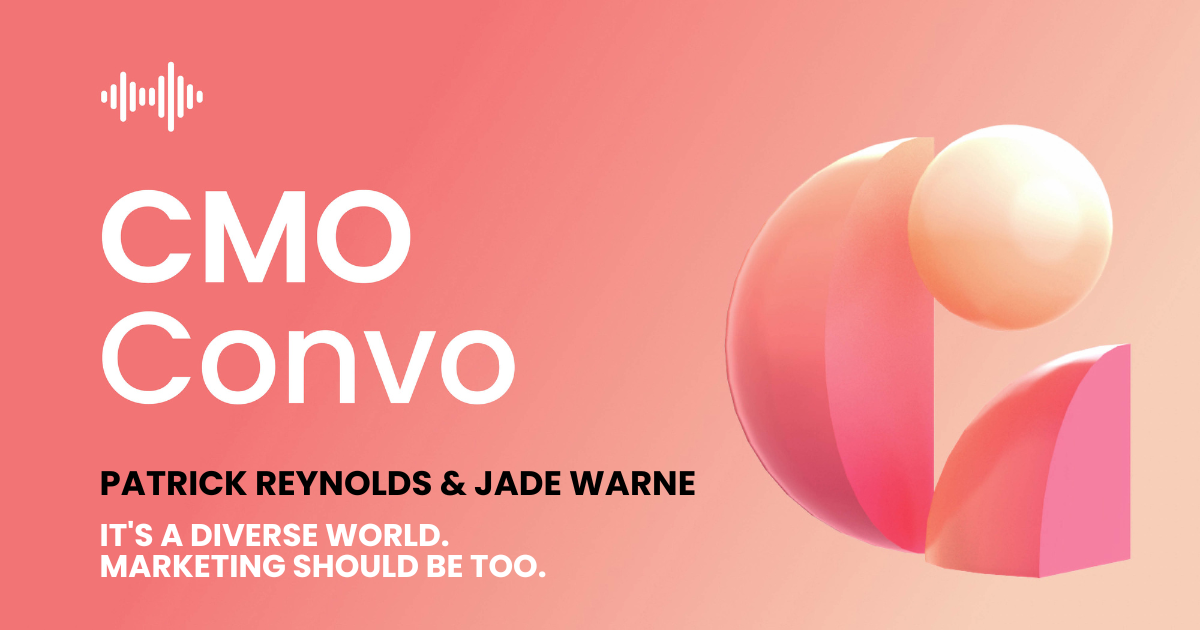 Patrick Reynolds on his appearance on CMO Convo
Hello, my name is Patrick Reynolds, I am the CMO of BlueConic. About a month ago now, I recorded an episode on the topic of sort of diversity, equity, and inclusivity, which we then shared through the CMO Alliance channels, as well as a little bit through the BlueConic channels and a lot on LinkedIn.
And the webinar has led to some really interesting conversations on three different levels, each of which had a slight overlap. And each are distinctly important.
So the first, it sparked a really good dialogue at large with people about the role of diversity, equity, and inclusivity. How does that play into marketing, which historically has a fast follower/birds-of-a-feather kind of look to it. A lot of people have had a similar vibe in marketing, historically. I think broadening that aperture is really wise so that conversation was really interesting to me.  
The second one is within my company, it had a really good catalyzing effect to stimulate a conversation about what does it look like in the present? How are we doing today? How would we do things differently moving forward? Where are we recruiting? What criteria do we apply to sort of non-traditional marketing students versus the people that are one connection away from us on LinkedIn. And that was a really rich conversation about just "how do we go about going to market as it were, for marketers, in a way that is big tent, value-led, and inclusive?"
And then the third one, arguably the most important was just in my own family. We have two generations: my wife and I, and then my semi-adult children. It prompted a really rich conversation about the world that they live in versus the world that my generation came up through, and how each of those experiences has shaped our worldview in very different ways. Obviously, there's some overlap, shared values, and all those things. But just the way we think about things, the names we put to things, the words we use, the default postures each of us has... They are quite different, shaped by experience, and a lot has changed in the intervening years. And that was a really eye-opening conversation.
I wanted to have a conversation about a topic that I thought transcended marketing, but was particularly important to marketing. I have to say that it was a pleasure, and it's super easy to record. Couldn't have been simpler!
And upon sharing it, it really stimulated some very, very interesting conversations, from a number of different quarters with people I knew, people I didn't know, people have gotten to know. And I think that's really all you can ask for from a webinar, marketing event, or campaign. So strongly recommend!
If you have any questions you can reach out to me it is patrick.reynolds@blueconic.com and I hope you find similar success.
Join the conversation
If you're interested in joining the ranks of esteemed CMO Convo guests like Patrick, or know someone who would be perfect for it, contact contribute@cmoalliance.io today.
Interested in promoting a brand or product to a dedicated global audience of CMOs and marketing leaders? Contact our fantastic sponsorship representative, Juta at juta@pmmalliance.com.