As of January 2021, there are over 43 million podcast episodes available. To use a technical term, that's a shedload of podcast episodes. Let's put that in perspective: if we take the average length of a podcast as 37 minutes, that's 1,591,000,000 minutes, or 26,516,666.7 hours, or 1,104,861.11 days, or just over 3027 years of back-to-back podcast episodes. To borrow a phrase from a 2012 meme: "ain't nobody got time for that", let alone your average CMO, who we all know has more important things to do.
Because your time is precious, we've cherry-picked five podcasts which will give CMOs valuable, useful information. Feel free to keep listening to that addictive true crime podcast, but if you're looking to get something into your rotation that will up your game as a CMO, it might be worth checking some of these out.

CMO Moves
https://www.adweek.com/category/cmo-moves/
This podcast is fantastic for getting insider info from the biggest names in marketing. Whether it's their career paths, how they went about major career landmarks, or advice and insights, you'll find it all here.
A big advantage of this podcast is the high-calibre of the guests. It's hosted by Adweek (who themselves are a pretty big name), so they've got the pull to bring in the marketing/advertising equivalent of household names.
Just some of the recent talking points on the show have been:
How brands have evolved
Burger King's timeless rebrand
The blueprint for cross-functional team stability
The CMO Podcast
https://www.jimstengel.com/the-cmo-podcast/
Sometimes it's just great to listen to big names in an industry sitting down and dissecting aspects of an industry together. And it doesn't get much bigger than Jim Stengel, former CMO of Procter & Gamble, who moved from heading the marketing for one of the biggest consumer goods corporations in the world to being a leading advocate for ideals- and cause-driven businesses. That career shift is a fascinating enough subject in itself, but having such an interesting host sitting down with marketers from both big businesses and nonprofits is not to be missed. Stengell's able to draw on his own experiences to get to the crux of CMO's responsibilities and how to bring purpose to marketing in a way few podcast hosts can match.
Recent episode subjects include:
How Pinterest's first CMO has been stepping up to the plate and how they've adapted the platform to actual use over intended use
How an established deodorant brand is responding to loss of market share to smaller, diverse competitors
The importance of inspiring hope and balancing a budget from the CMO of a children's research hospital
Rattle & Pedal
http://www.rattleandpedal.com/
Let's be honest. Swirling around the important concepts related to marketing and advertising, there's a lot of BS that you have to wade through. Cutting through all of that is the mission of Jason Mlicki and Jeff McKay, the hosts of Rattle & Pedal. The way they go about this is equal parts insightful and humorous, doing wonders to dispel the myths that surround marketing and professional services. One of the core aspects of the podcast are the different backgrounds of the hosts. Mlicki, as the head of the agency Rattleback, and McKay, as a former CMO, offer both agency- and client-side perspectives on marketing and it's where those perspectives meet that you get some fantastic insights into the absurdities of both sides.
Recently they've covered:
Avoiding pitfalls when it comes to growth potential
Cross-selling to existing clients
The state-of-play of inbound marketing
The CMO Show
https://thecmoshow.filteredmedia.com.au/
Though we're all aware that high-level marketing can be on a global scale, a lot of the discussion around it comes from the US and is therefore put through a largely US-centric lens, both in terms of theory and audience. That's not a huge problem, but it's worth reminding yourself that there are plenty of other marketers out there to provide insights, and audiences to appeal to in different ways. That's what's great about The CMO Show, which focuses on findings and insights from APAC brands. Maybe you're looking for tips on how to market in that region (whether you're based there or looking to expand into it), or maybe you're just looking for a different perspective than the usual US-focused podcasts, either way this is a great place to start.
Just a selection of their recent episodes subjects:
Making marketing meaningful in 2021
Brand transformation
Transitioning from CMO to CEO
CMO Confessions
https://cmoconfessions.podbean.com/
The newest podcast on this list, this B2B focussed show offers an honest look at the day-to-day responsibilities of modern CMOs. It might lack the big name guests of some of the podcasts above, this can be a strength in itself. Think about it, the role and responsibilities of a superstar CMO from a multi-billion dollar organization might not be as relevant to you if you're heading up the marketing of a freshly launched start-up. But even if you consider yourself to be a veteran CMO, it might be good to see what's going on with the newest crop to grab some ideas and fresh perspectives.
In recent episodes they've covered:
Authenticity and the future of influencer marketing
Differences between Tech and Agency CMOs
The role of responsiveness in creative storytelling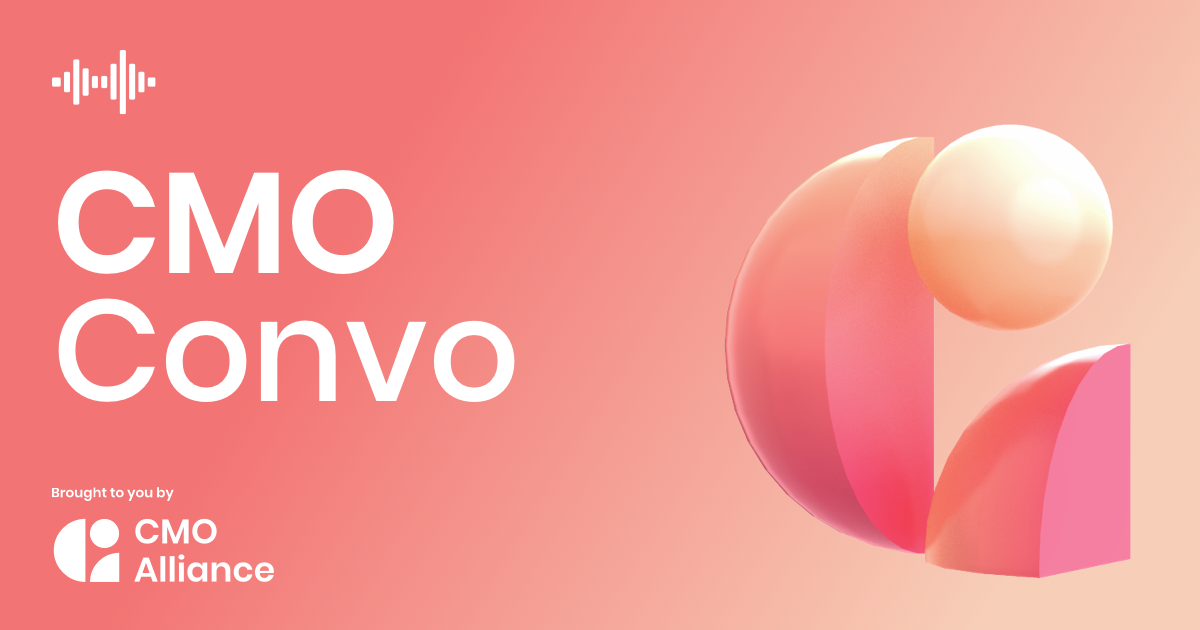 Not to shamelessly plug anything, but we have our own podcast, CMO Convo! Each episode involves in-depth conversations with CMOs of every experience level, industry and geographical location, all with the goal of answering one central question: what does it take to be a great CMO?

Have we missed something? Let us know if there's a great podcast you listen to that helps with your role as a CMO.